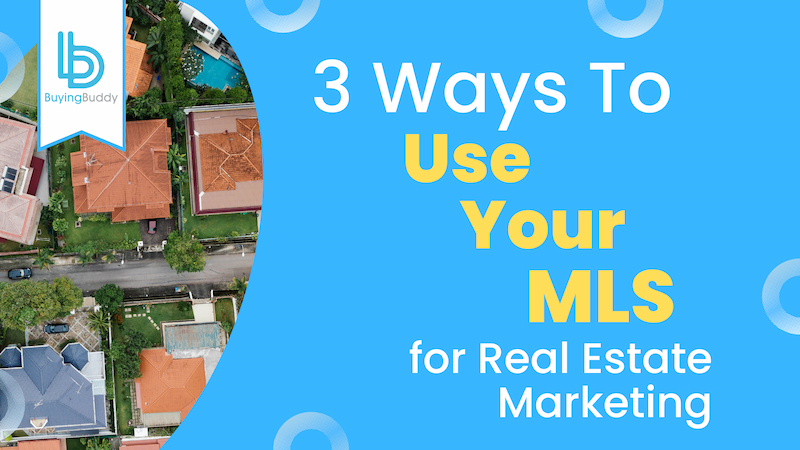 3 Ways To Use Your MLS for Real Estate Marketing
October 13, 2022
0 Comments
Grow Your Real Estate Business With Everyone Else's Listings
Becoming an expert in the real estate industry isn't easy, but it's one of the best ways to grow your business. Sure, everyone knows that putting out yard signs and running email campaigns are time-tested ways to get your name out there, but what if you're on the hunt for more creative and unique ways to illustrate your expertise and find more potential clients? That's where the secret marketing superpower of MLS listings comes into play.
Agents typically overlook the biggest asset for real estate lead generation they already have at their disposal – their own MLS! Indeed, it is possible to leverage all of the listings on your MLS to your own marketing advantage by adding IDX to your real estate website. Even if every listing you feature is not your own, your MLS is a goldmine for content that can work to draw in organic search engine traffic and deliver highly-interested and specific leads to your doorstep, ready to be captured.
Here are 3 ways you can use IDX (not for searching!), that utilize all the listings on the MLS, to help you position yourself as a real estate expert and turn your website into a more effective real estate marketing machine.
1. Build Authority with Hyperlocal Neighborhood Pages
Focusing on getting to know neighborhood markets is a proven strategy for generating real estate leads. One simple way to demonstrate your authority and knowledge is through the creation of hyperlocal neighborhood pages that attract organic search traffic. Hyperlocal neighborhood pages allow you to position yourself as an authority in your real estate market in order to generate and capture those niche leads looking for homes in a specific neighborhood. Your real estate website should not just be a way to advertise yourself and your homes – it is also a vital tool in helping you to build authority as a real estate agent and demonstrate your local knowledge and expertise to potential clients.
Using an IDX plugin for your real estate website lets you create hyperlocal real estate neighborhood pages with live properties and real estate data, all blended with information on lifestyle, education, recreation, and other important details that would be useful to people thinking of moving to the area. Your IDX plugin should let you easily embed various exciting displays of MLS listings all across your web pages. The best IDX plugins make it easy to feature recent sales in the neighborhood, the newest listings, homes within a certain price range, or even homes with specific desirable features, like wraparound porches or lake access.
Along with positioning yourself as a real estate marketing expert, hyperlocal neighborhood pages can also improve your SEO and ultimately, your Google ranking. No matter what type of market you're targeting, rising to the top of the Google search results will bring in more organic traffic to your website and allow you to capture more leads, just by using your own MLS. Check out more tips to create hyperlocal neighborhood pages that empower your SEO.
2. Use the Magic of IDX to Demonstrate Legitimacy
IDX is marketing magic, and if you're not utilizing MLS properties with an IDX plugin on your website, you are losing out on the opportunity to impress buyers and sellers with your knowledge and sales experience. Don't have any active or sold listings to display? Not a problem. When you add an advanced IDX plugin to your WordPress, Squarespace, or other type of real estate website, the entire MLS is at your disposal, so showcase the active or sold listings from your office in the meantime.
The beauty of using IDX to combine the MLS with your own real estate website is that you can showcase any inventory you like – all to your own advantage, allowing you to look like a major player even if you just got your license recently! One of the main benefits of using an IDX plugin like Buying Buddy is that real estate agents can use IDX to create custom showcases and search criteria for neighborhood-specific and niche-specific homes with MLS data.
For instance, say you wanted to target a luxury market in a ski area. You could create a page (perhaps even a hyperlocal neighborhood page as mentioned above) or a series of pages in an entire section of your site featuring a custom showcase of homes on the market with the coveted 'ski in' amenity, along with information about local ski areas and recreation available in the area. You can also add additional IDX widget components such as quick search links or search forms that solely search for ski in / ski out, making it easier for your traffic to navigate your site and find relevant properties, all delivered by the power of IDX.
3. Create More Credible Content With MLS Listings
The power of content creation should never be underestimated when it comes to establishing credibility as an agent, and using MLS listings delivered by IDX to support your content is easier than ever.
Leverage MLS listings into credibility with your leads using IDX. Embed MLS listings into your content with IDX widgets to complement and support the articles, blog posts or pages that you create. Combining your content with MLS listings allows you to provide meaningful and relevant examples of properties that fall under the topic you've written about, enabling you to reach an even wider audience than you would with content creation alone, just by utilizing the power of IDX.
For example, are you interested in a certain kind of architecture, like Victorian homes, in your area? When writing a blog post about this style of home, enhance your content by embedding specific Victorian homes into the post itself using an IDX widget from Buying Buddy. Wizards make it as easy as just copy and pasting shortcodes to display the relevant properties. Not only does this enrich your content, embedding specific properties from your MLS gives your traffic a better overview of the properties and allows them to see exactly which types of these homes are available on the market.
Content like this can improve your site and its rankings on Google, allowing you to generate more leads while providing a valuable informational service to potential buyers. Most content created by real estate agents often doesn't include any properties, but IDX plugins like Buying Buddy allow you to embed the latest real-time matching properties within or amongst your content, giving it much more credibility by providing real-life examples. When you include properties like this, not only do you create more credible content that appeals to your target market, you can also build a more meaningful relationship with leads long before they ever meet you in person.
Use the Power of the MLS to Your Advantage
One of the most unique ways to grow your real estate business is to use the power of the MLS to your advantage to build authority in your market. Implementing IDX on your real estate website is your opportunity to harness the power of your MLS as content in your own marketing. Using IDX MLS listings like this will help you legitimize your business with authoritative content that gives you credibility straight out of the box.
When you combine MLS data with an IDX plugin on your real estate website, your marketing efforts will bear more fruit by allowing you to give your service more tangibility and exploding your rankings on Google with the rich, engaging content you'll create, just by featuring specific properties you find on the MLS.
Don't let this real estate marketing opportunity go to waste–use MLS listings with an IDX plugin to build authority and expertise, and your business will flourish.