How to log in to your WordPress website and find your way around
March 13, 2013
0 Comments
The first thing you'll want to do with your blog site is to log in and get acquainted with your user admin dashboard.
There are 2 ways to log in:
Click on the "Blog Admin" link at the bottom right of your website.
Type your website URL into your Internet browser, followed by "/wp-admin" (without the quotation marks). It will look like this – http://www.yoursitename.com/wp-admin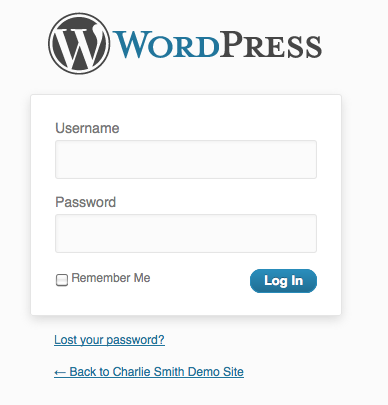 This will take you to the log in screen (pictured at right) where you then simply type in your username and password. You should have received a welcome email containing all of this information. If you did not receive one, please contact us.
Once you have logged in, you'll see your Admin Dashboard.
There are some main content areas on your dashboard, including items such as:
Right Now – Shows everything you currently have in your blog site, including the numbers of pages, blog posts, comments, categories, etc.
Recent Drafts – This shows recent drafts of blog posts that you have written, but have not 'published'. These draft blog posts are not visible to your website visitors until you publish them.
Recent Comments – This shows a summary of the latest comments made by your visitors on your blog posts.
Incoming Links – This shows all links coming into your site from external websites.
Depending on your account, your dashboard might have additional sections in addition to those listed above, but those are the main sections for all accounts.
You will also see a main menu on the left side of the screen containing the following items:
Dashboard – The page you arrive on when you first log in to your account is called your "dashboard". Clicking on this will take you directly back to the home screen of your admin account.
Posts – Clicking on this will take you to your Posts summary page, where it shows a list of all blog posts you have made. If this is your first time logging in, you will not have any blog posts yet.
Media – This is where all of your photos and videos are kept. When you upload photos or videos into your media library, you can use them in your blog posts and pages.
Links – This is where you can store your favorite website links and use them throughout your blog site.
Pages – This is where all of the pages on your blog site are kept.
Comments – Whenever someone comments on one of your blog posts, it will show up below that specific blog post, and it will also show up in this comments section as well. This is where you can see the summary of all comments appearing on your blog posts.
Appearance – Here you can edit the CSS of your blog. If you are unfamiliar with how CSS works, we would advise you to not change this.
Help & Support – Helpful tips and other support items for your WordPress blog site.
If you hover your computers cursor above a menu item, a set of sub-menu options will appear for that menu item. Please view the other articles in this category for more information on how to utilize each menu item.